This was a BIG weekend for the Wehri family. The weather was glorious here, upper 70's and sunny. Weather like this weekend makes all the rain and cooler temperatures bearable. I warn you now this post is going to be a long one... so get comfy!
Bainbridge Island
Since the weather as so nice we decided to get up and go to Bainbridge Island on the ferry. We thought that Maren would love the ferry ride and it would be fun to explore over there. It was a little windy on the ferry but otherwise beautiful. Unfortunately one draw back was they were doing a lot of construction in the downtown area (which is really the only place to go) so it was a little hard to get the stroller around in all the mess. Regardless, we had a great lunch followed by the best ice cream I have ever had (I know that is a bold statement, but I mean it). Apparently everyone else had heard that because there was a line out the door. Overall it was a great way to spend a Saturday afternoon.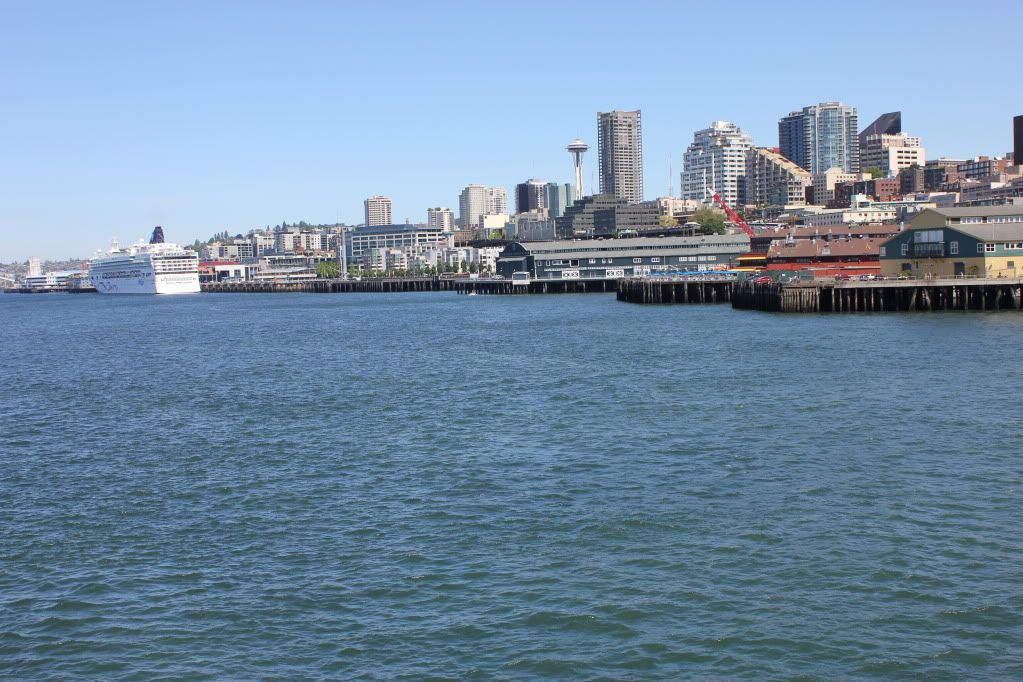 A view of the city from the ferry
Daddy and Maren on the ferry (that is the Olympic Mountains behind them)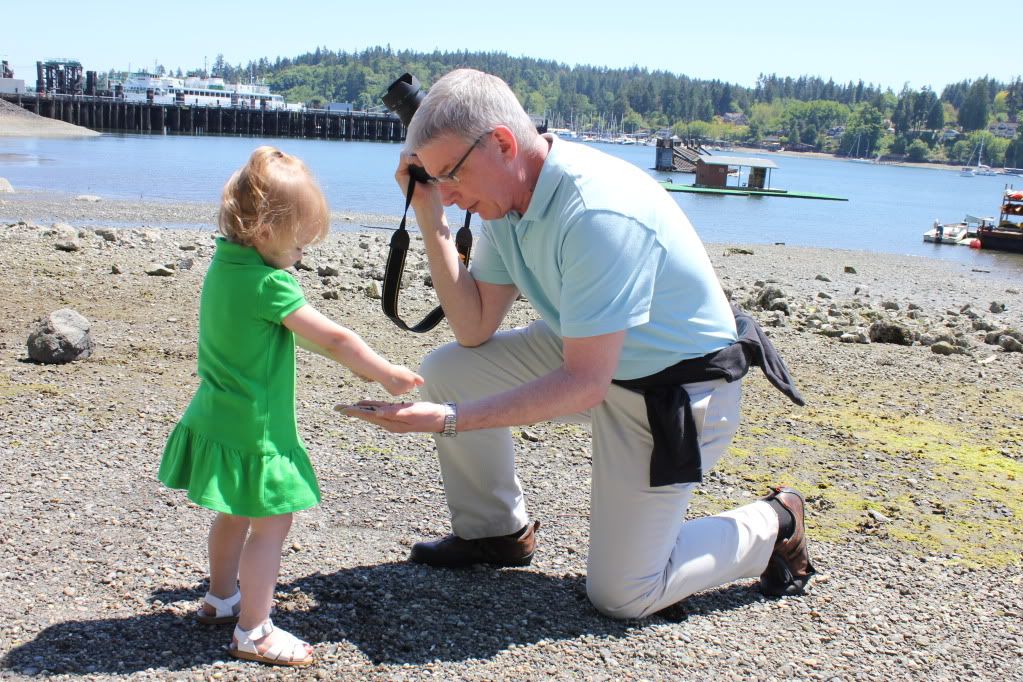 We found a beach so Maren was showing Papa her love of the rocks and sand
Mommy trying to get those super white legs a little bit of color!
Here Mommy have some sand!
After all the beach fun Maren took a rest in the stroller with some water, must be nice to get pushed around!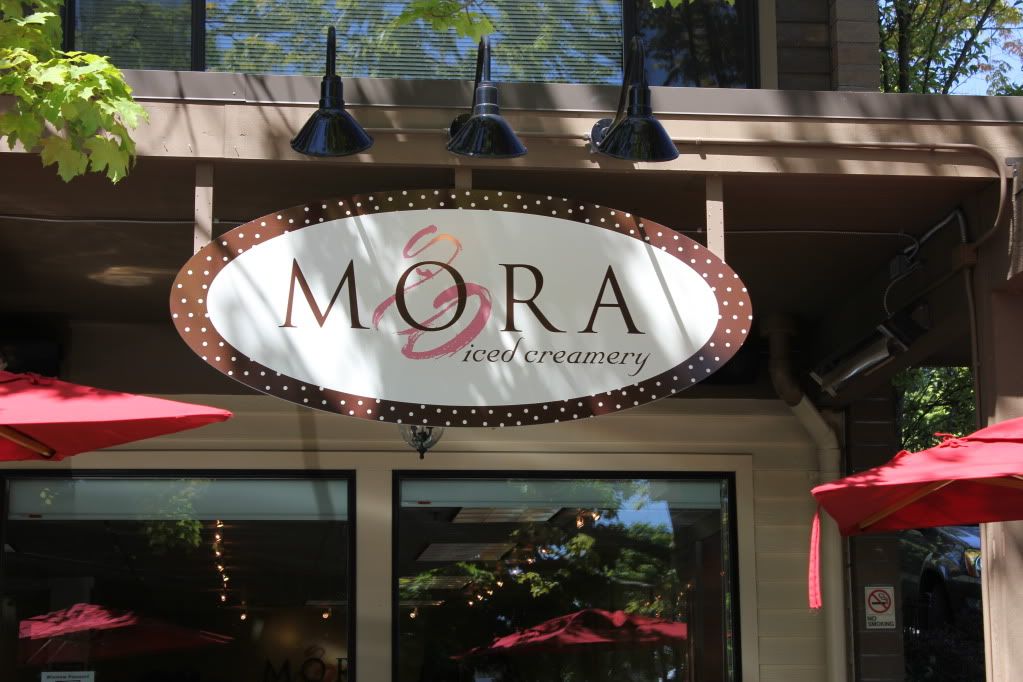 Mora's, the best ice cream place ever.
A happy toddler after sharing some of our ice cream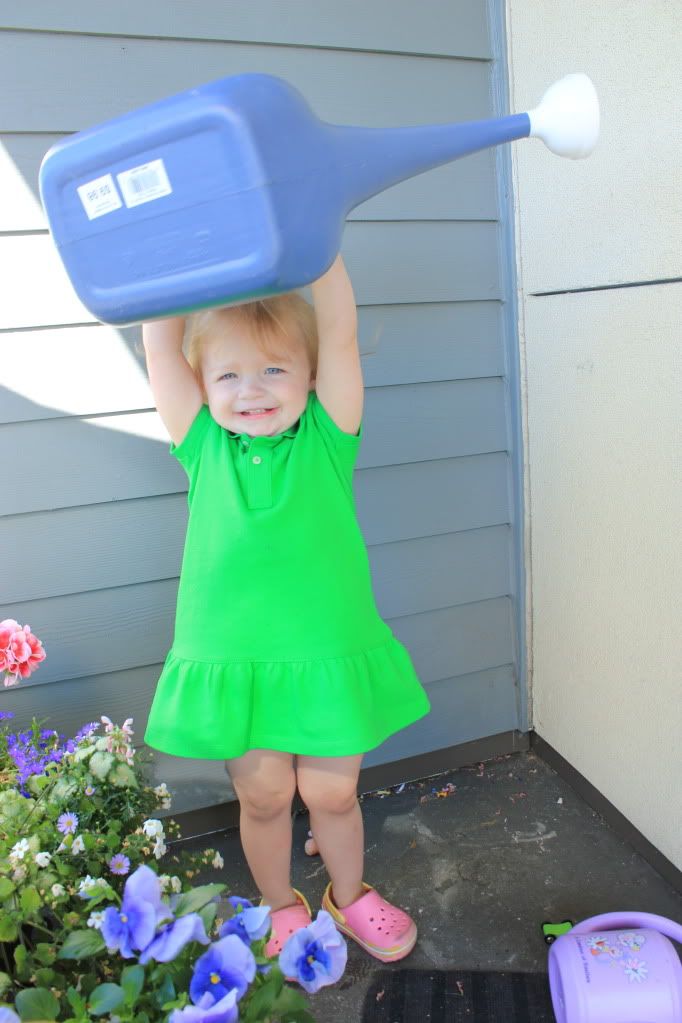 After we got home Maren decided to water the flowers on the balcony, she is queen of the watering can!
U2
To top off our wonderful day Jonathan and I were going to see U2 at Qwest field that night. We were both VERY excited because we have been wanting to see them for a long time. The concert tickets were our Christmas present to each other, we were happy that the day had come to use them! We forgot the camera so I took a pictures with my iPhone so the quality was not so hot. Our seats were wonderful so the pictures came out better than I thought.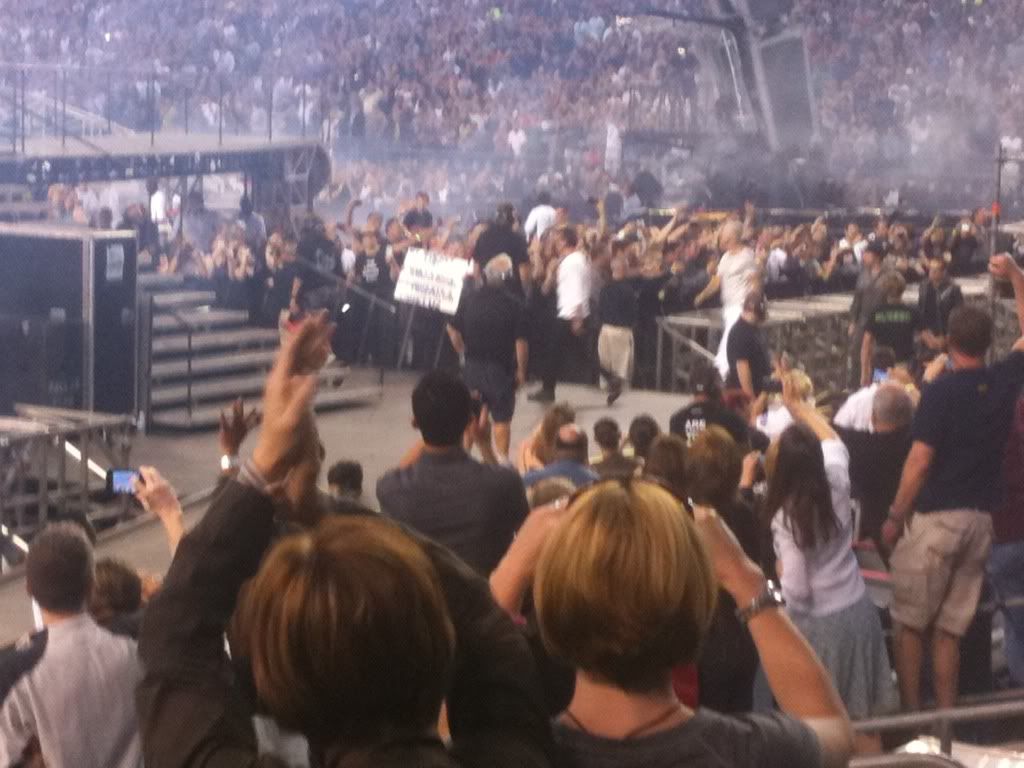 U2 coming on stage in order - Larry Mullen (drummer), Adam Clayton (bassist), The Edge (guitar, keyboards), Bono (lead singer).
Bono (looks farther away in this picture, but was closer to us)
The Edge
They put on a fantastic show and will definitely go in the memory books. Lenny Kravitz opened and he was pretty good too!
Breast Cancer 5K
For the last 9 weeks I have been training for my first 5K with some great ladies from our playgroup. Our leader, Andrea, did a great job kicking our butts and getting us into shape. Any of you who know me know that I DO NOT LIKE TO RUN. I decided this would be a great way to get back into shape and it was for a good cause. Not the best planning on my part since I was out until 12:30AM the night before the big race, but oh well. The race was awesome and I was so proud of myself for running. Our group did a great job and we are already talking about our next race. Shhh... don't tell anyone but I think I actually like running!
The 5 ladies running in the race, don't we look cute! We tried to wear pink tops with funky socks. There were lots of fun outfits, gave us ideas for next year!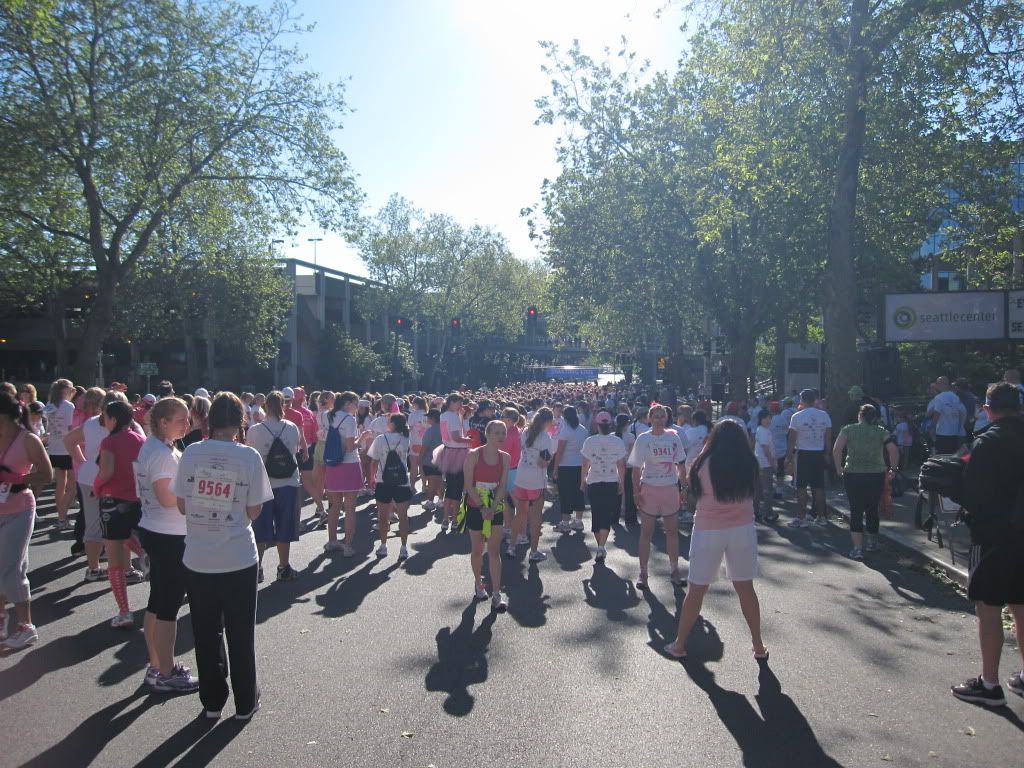 All the ladies getting ready to start the race!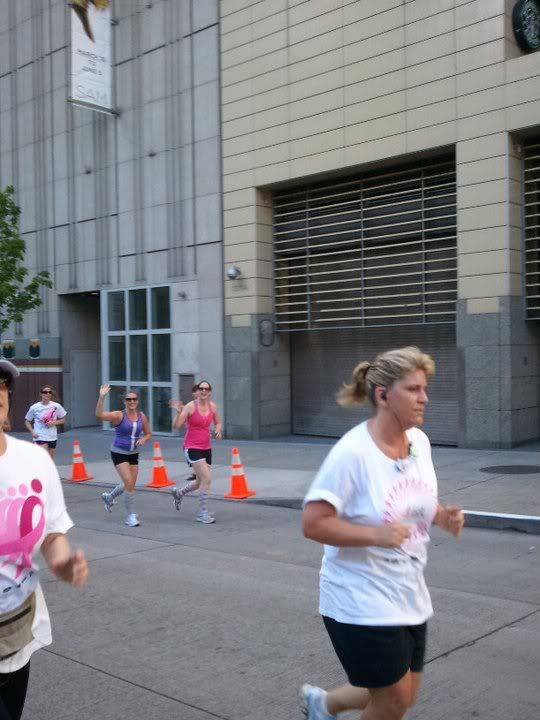 Trinity and I, looking pretty good for running up a big hill!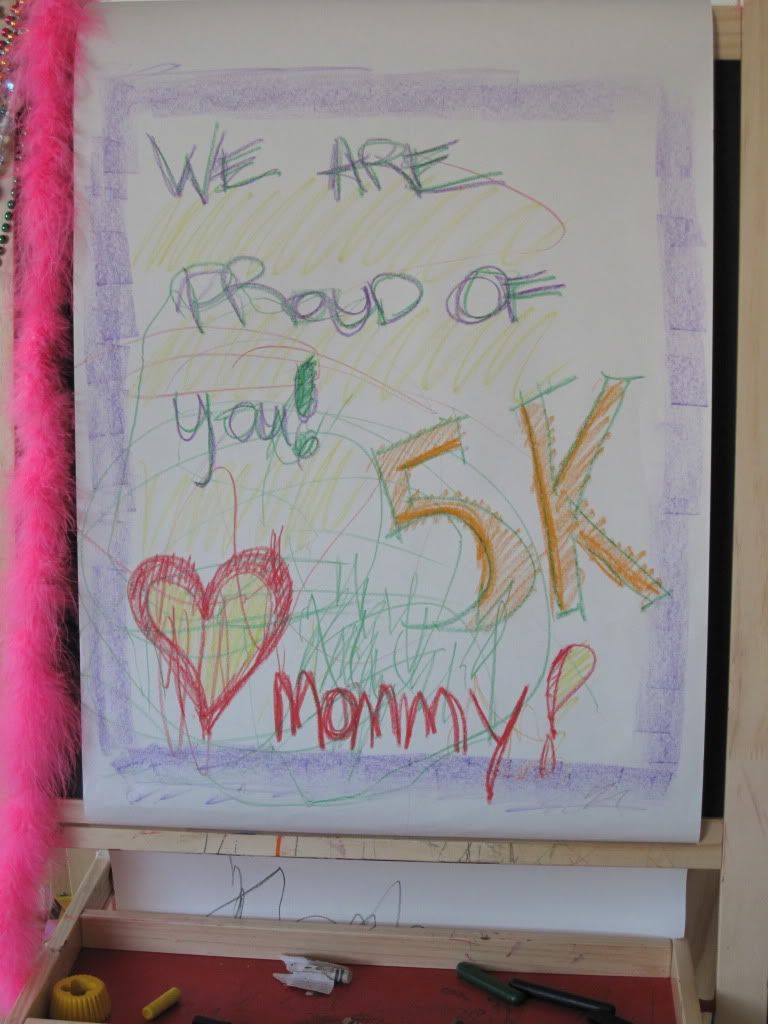 The sign waiting for me when I got home, so sweet!
Whoa, what a weekend! To think summer is just beginning I can't wait to see what we do next!!